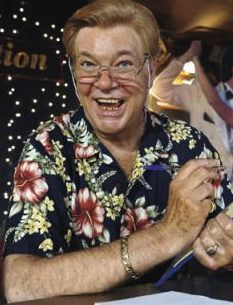 Cyril Babcock is one of Joyce Temple-Savage- love interests. They first met in the early 1990's when Joyce was a holiday rep and Cyril and his wife were resident dancing instructors. In series 5, Joyce and Cyril meet again after many years at the Solana Dance Competition. Mr Babcock had to go to Thailand after this but him and Joyce agree to enter a relationship when he returned. While in Thaliand Cyril got arrested and didn't return to Benidorm. A few years later, Joyce finds Cyril again searching through the bins (he was made homeless) in a Benidorm Restaurant. They start another relationship but it didn't work out because Cyril got a dodgy pig that gave people food poisoning and risked Joyce losing her job. Cyril went away and we never saw him again.
Facts
-Cyril has a heart condition.
-For the last 10 years of their marriage, Cyril's late wife put happy shopper instant coffee in a Nescafe jar.
-His late wife (Genevieve) died in 2001 in a steam roller accident.
-Cyril was arrested in Thailand for frightening a farmers cattle after nursing his groin injury.
-Mateo calls Cyril 'Squirell Bigcock' and the name catches on.
-When he was deputy manager of the Solana Cyril stole a pig for an eating competition from the bins of a shop and fed it to the Solana guests- it gave them food poisoning.